This Happened Last Monday...
At the conclusion of the Zoom meeting breakout sessions President Brian Martin called the meeting to order at 12:13 PM and asked Bill Nance to lead the invocation, 4-Way Test, Pledge of Allegiance and share the news of the day. During Bill's invocation he shared the January 6 prayer of Barry Black, U.S. Senate Chaplain. The prayer reminded us that words matter.
Secretary Kim Bramlage then came to the virtual podium to introduce visitors. Visitors included Adam Horseman of Robert K. Jones Insurance Agency.
Kim introduced Shaun Yu who announced that our next Bring a Guest Day will be February 8, 2021. The speaker that day will be Futurist Gary Golden. All members are invited to attend for this special presentation and encouraged to invite a guest.
Kim shared this week's birthdays. Rotarians recognized for birthdays were Walt Hibner, Tom Budde, Alan Pippenger, Phil Parker, Jerri Standard, and Suren Singhvi.
Secretary Kim Bramlage asked for any Day Tens. Kim Bramlage gave a Day-$10 to celebrate the one-year anniversary of her trip to India for polio immunizations; Dave Williamson gave a Day-$100 for the Cleveland Browns playoff victory, the Ohio State Buckeyes upcoming national championship game, and for being appointed as the President of the Greater Dayton Regional Transit Authority Board; Suren Singhvi gave a Day-$106 as a combination of his birthday and the number of years he has been a Rotary member; Greg Birkemeyer gave a Day-$20 to celebrate the completion of 10 days of quarantine for himself and his wife; Walt Hibner and Alan Pippenger each gave a Day-$100 for their birthdays; and Patty Caruso gave a Day-$10 in celebration of the completion of her virtual MBA from Miami University.
President Brian Martin came back to the virtual podium to share several announcements. He reminded members that Rotary is a membership organization and to keep recruiting. Brian encouraged members to share updates about other members if you know about how they are doing while we meet remotely, especially regarding members
who are not able to meet remotely.
Read More
Share
---
Dayton Rotary Peace Committee Distributes 200 Holiday Meals
The Dayton Rotary Peace Committee continues to strive for ways to build relationships in neighborhoods in West Dayton. One of our committee members, Reverend Elmer Martin, who serves as pastor of Greater Allen AME suggested that hunger has become an even more critical need of so many in the community since the pandemic. If people are hungry, peace becomes difficult to achieve.
Working with Reverend Martin and Father Benjamin Speare-Hardy of the West Dayton Caravan of Churches, our committee organized a Holiday Meal Distribution at two churches in West Dayton, Greater Allen AME and St. Margaret's Episcopal Church. On December 19, 2020, the Saturday before Christmas, we would pass out food to anyone who showed up at the churches.
The Peace Committee contacted Miami Valley Meals (MVM), a newly organized non-profit, that provides free meals to the hungry. We contracted for 200 frozen meals and the churches provided dozens of frozen turkeys and hams as well as canned goods for pick up at the two locations. Volunteers from the Dayton Rotary Peace Committee and the two churches manned the distribution stations outside both churches that Saturday.
The Holiday Meal Project was a total success! We distributed all 200 meals, the frozen hams and turkeys as well as the canned goods available. To see the smiles on the faces of the people who drove up to receive the donated food was priceless. We took that first important step in building a relationship with the community. We all agreed we would do this again next year and hope to reach even more people in need.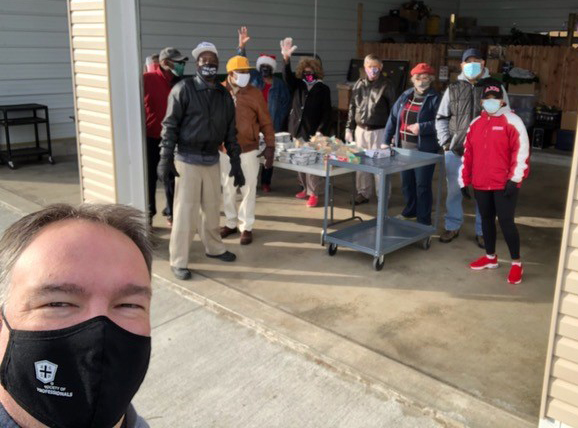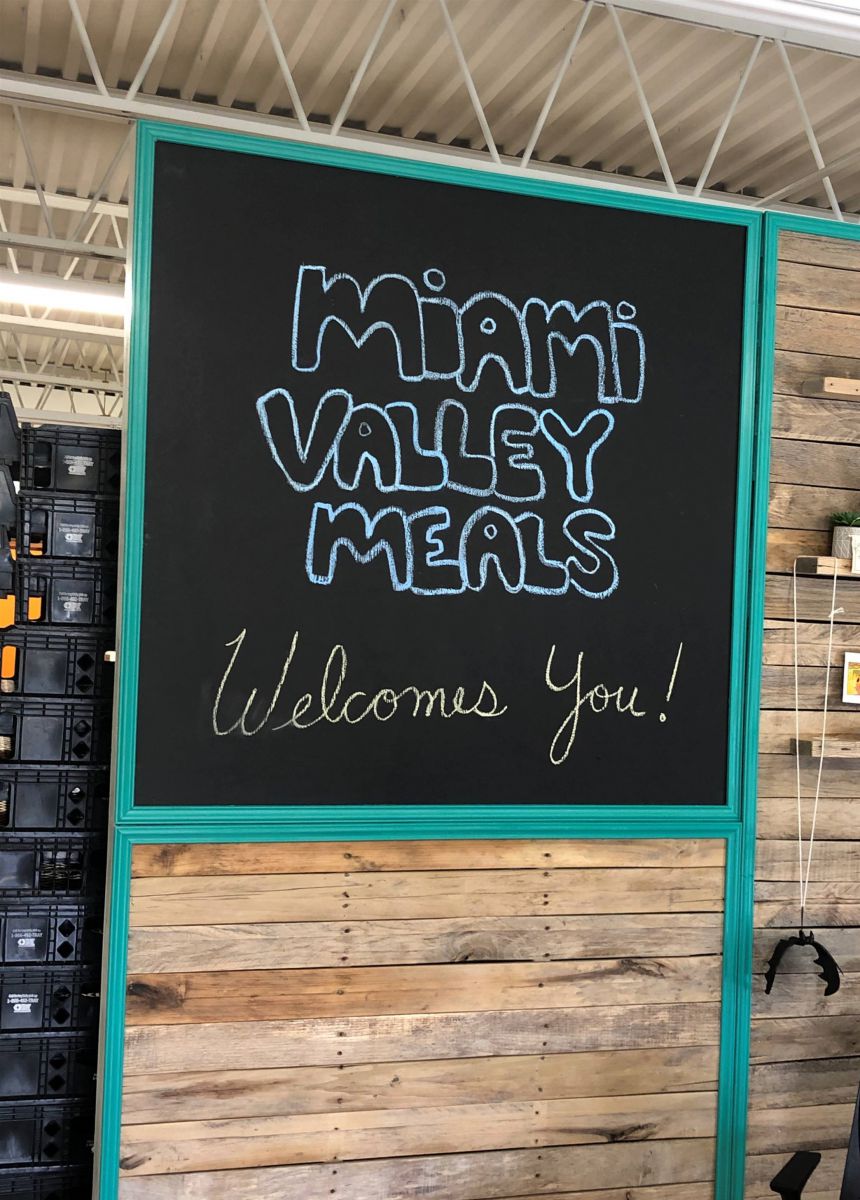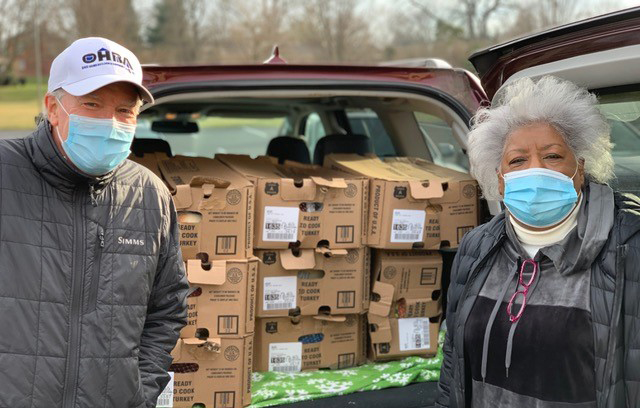 .
Share
---
Dayton Rotary Sponsors Peace Exhibit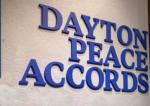 The 25th anniversary of the Dayton Peace Accords, the landmark treaty that ended the violent hostilities of the 1992-95 war in Bosnia-Hercegovina, occurred on November 21, 2020.

Until 2019, there had been no permanent exhibit in the Dayton area to commemorate this achievement and educate the public on:
The context of the war;
The issues that made its violence so horrific;
The heroic efforts of Wright-Patterson Air Force Base personnel to set the stage for, and of members of the U. S. State Department to conduct, negotiations to bring peace to that region; and
The aftermath of the war which has made true and lasting peace there a still-elusive goal.
The Dayton International Peace Museum produced its first permanent, interactive exhibit to accomplish these goals in November 2019. With the pandemic closing museums in early 2020, innovation was needed to appropriately commemorate the 25th Anniversary.
The Dayton International Peace Museum partnered with the Rotary Club of Dayton to digitize the exhibit and offer it online throughout the world to visitors, researchers and students, even those who may never be able to visit Dayton, Ohio in person. By offering the interactive exhibit online, it is even easier to use as curriculum material for educators. As such, the "Magnificent 17" (Rotary Club of Dayton members lead by the Dayton Club's Peace Committee) raised $3,000 to serve as the Presenting Sponsor of the online exhibit, which can be viewed by visiting
https://accords.daytonpeacemuseum.org/
Share
---
Rotary International News