This Happened Last Monday...
President Brian Martin called the meeting to order with over 60 participants online. Bill Nance shared a devotional called "The Mirror" then gave the invocation which focused on reflecting on the person in the mirror . He then led us in the Four Way Test and the Pledge of Allegiance and provided headlines of news of the day and shared the story of a 90 year old World War II veteran who has dedicated his life to volunteering for the homeless and the serving through the Salvation Army he has been knitting hats for the less fortunate one hat a day and during COVID and has spent 1460 hours making the hats.
Kim Bramlage announced the visitors and guests which included Eugene Bounds, guest of Jim Gallagher. She then announced birthdays for the week: Dave Neer, Anne Pfeiffer, John Neff, Penny Wolff, Jean Maychack, and Jane Keiffer. Kim then announced that Laura needs volunteers to be SMILE reporters. Kim then called for voluntary Day 10s from the group. John Neff gave a Day 100 for his birthday. Penny Wolff gave a Day 375 for her birthday to complete her next Paul Harris. Iris Juergens gave a Day 50 for Opening Day of MLB and for the Astros who swept their first series.
President Brian Martin thanked Linda Groover for stepping up and volunteering to have her company FriendsOffice to help us with our move. He reminded the group if anyone would like to help with going through office contents please let he or Laura know. We have several office visits set up this week. We are excited about all our new members great to Rotary continue through this pandemic. Please continue to get your vaccines so we can all get together soon.
President Brian then called on Iris Juergens, chair of the day to introduce our speaker Mark Murdock. Mark took his position of VA Director in February 2020 and then a month later COVID hit. He started his presentation with a video that reviews a year we will never forget from March 2020-March 2021. Starting with screenings, showing appreciation for healthcare workers, treatment of first veteran affected by COVID, implementation of VA Video Connect health care, Mask Making during the shortage of PPE equipment. COVID Tent Screening for staff and Veterans. Mask giveaway for the veteran public while there was a shortage of masks. Implementation of a Drive-Thru Food Pantry line for the Veterans and their families. "Die Corona" Performance by some of the staff. National Guard Fly Over in Recognition of VA. Veterans Drive-by Birthday Parade for a VA resident turning 101 since he was unable to have visitors. Holding a employee blood drive with 120 people who signed up to give and help the community. Celebration of the National VA History Center being established at the Dayton VA with VA Secretary Robert Wilkie and other notables in attendance at the ceremony. Vaccines arrived in December for staff and veterans with 10,000 veteran vaccinated in March 2021.

Mark then presented a power point presentation about the history of the the Department of Veteran Affairs that has been caring for veterans since 1865 and since 1867 in Dayton. This is the second largest cabinet department with 377,000+ VA employees, 1,074 outpatient sites, and 170 Medical Center. The VA stands ready to meet the healthcare and benefits needs of the Nation's over 18 million Veterans. In Dayton the VA Medical Center served in FY 2020 40,749 unique veterans with 3,882 admissions, 351 beds (91 hospital, 99 domiciliary, 161 community living center). The Dayton VA budget of $499 million and 2,138 employees. Services offered include: Primary Care, Mental Health, Medicine, Surgery, Rehabilitation Services, Geriatrics & Extended Care, Specialty Services and Care in the Community.

Dayton VA Mission, Vision and Values: Their mission is to provide Veterans a continuum of care that is accessible, value-added, cost-effective, and of the highest quality within an environment of outstanding education and research and to promote a culture that supports and develops a caring, compassionate, competent, and quality workforce. Their vision is a vital component of the VA Healthcare System in Ohio is to be recognized as the healthcare provider of choice for Veterans and as an innovative leader in education and research. Core Values (I CARE): Integrity, Commitment, Advocacy, Respect and Excellence.

Their primary partner for the education mission primary partner is the Wright State Boonshoft School of Medicine the school of medicine partly started because of the VA. VA Secretary Priorities are expanding access to rural Veterans, implementing the Mission Act, implementing the Joint VA-DoD Health Record System, improve equity of care for women and minority veterans, and transforming their business systems to be more agile in how they deliver care.

They will soon be moving to one platform for all VHA Facilities with enhanced research capabilities and integration of artificial intelligence. It will also feature DoD interoperability so that the Veteran's health record starts from enlistment/commissioning and will cross healthcare between systems. The Dayton VAMC will roll this out in the Summer of 2022.

Mark then spoke of the National VA History Center as one of the first 3 original VAs in the country about the opportunity of Dayton to be have a national footprint.

They are concerned with veteran and employees Whole Health they want to empower them to take charge of their health and well-being. This program incorporates all aspects of life, understanding that health should be viewed holistically. Coming up with a personalized health plan.

He shared with us some COVID Detail Charts related to cases at the VA as well as the Vaccine distributions for Veterans.

What they have learned through COVID: video care is a stable platform and will continue to improve, queuing is a safety concern more than ever and conference rooms were a barrier to team work, many employees are happier and more productive working from home. Time and Space is the next Frontier!!
Share
---
Dayton Rotary Peace Committee Distributes 200 Holiday Meals
The Dayton Rotary Peace Committee continues to strive for ways to build relationships in neighborhoods in West Dayton. One of our committee members, Reverend Elmer Martin, who serves as pastor of Greater Allen AME suggested that hunger has become an even more critical need of so many in the community since the pandemic. If people are hungry, peace becomes difficult to achieve.
Working with Reverend Martin and Father Benjamin Speare-Hardy of the West Dayton Caravan of Churches, our committee organized a Holiday Meal Distribution at two churches in West Dayton, Greater Allen AME and St. Margaret's Episcopal Church. On December 19, 2020, the Saturday before Christmas, we would pass out food to anyone who showed up at the churches.
The Peace Committee contacted Miami Valley Meals (MVM), a newly organized non-profit, that provides free meals to the hungry. We contracted for 200 frozen meals and the churches provided dozens of frozen turkeys and hams as well as canned goods for pick up at the two locations. Volunteers from the Dayton Rotary Peace Committee and the two churches manned the distribution stations outside both churches that Saturday.
The Holiday Meal Project was a total success! We distributed all 200 meals, the frozen hams and turkeys as well as the canned goods available. To see the smiles on the faces of the people who drove up to receive the donated food was priceless. We took that first important step in building a relationship with the community. We all agreed we would do this again next year and hope to reach even more people in need.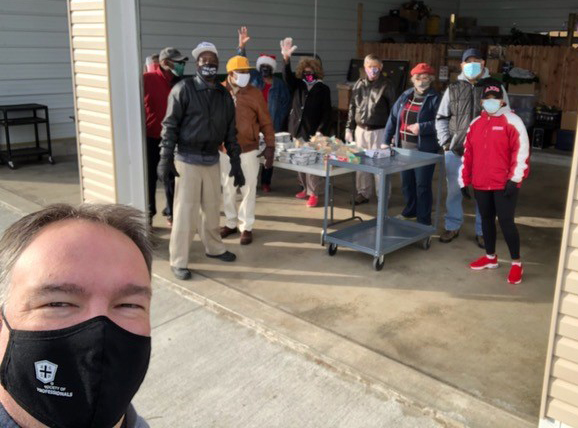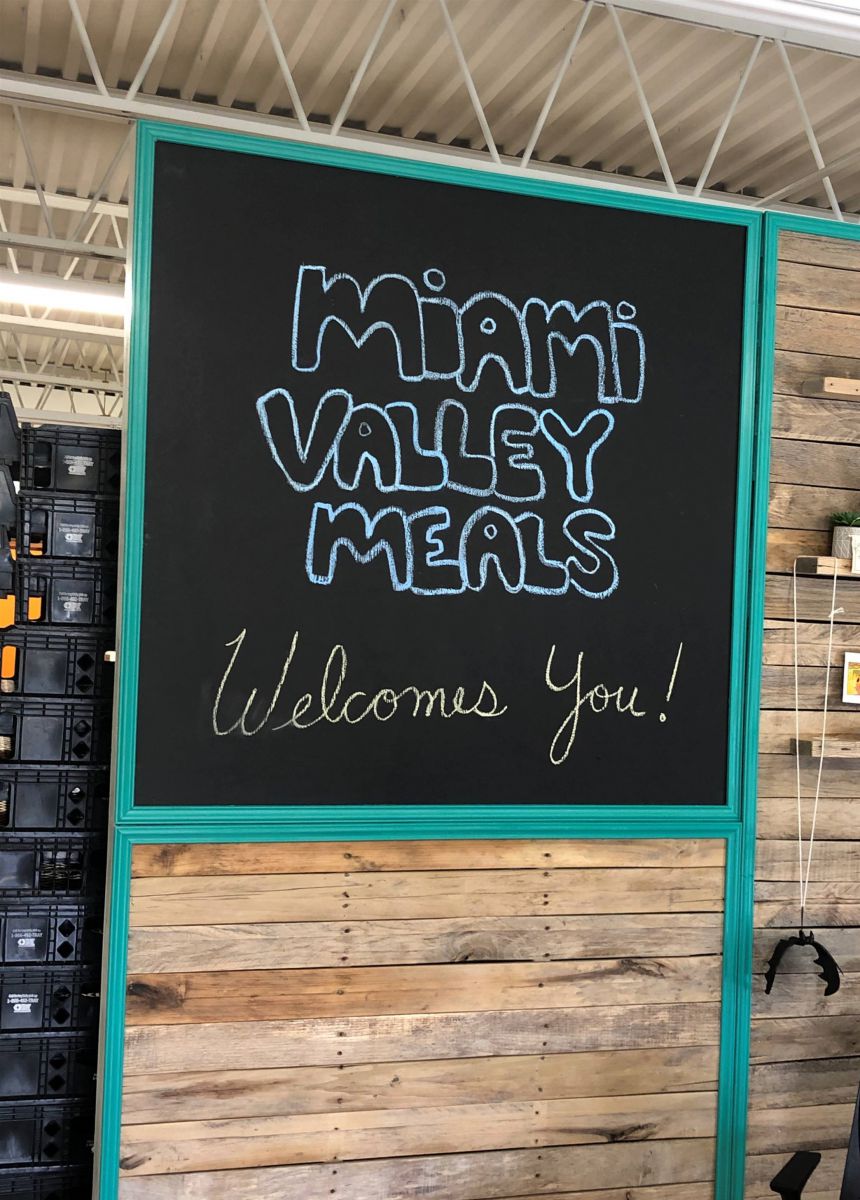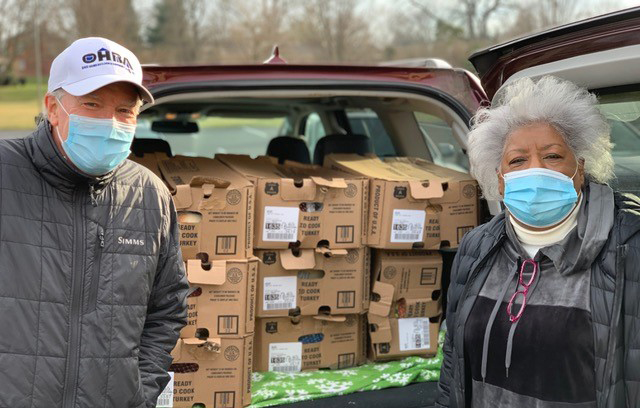 .
Share
---
Dayton Rotary Sponsors Peace Exhibit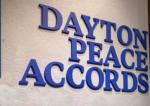 The 25th anniversary of the Dayton Peace Accords, the landmark treaty that ended the violent hostilities of the 1992-95 war in Bosnia-Hercegovina, occurred on November 21, 2020.

Until 2019, there had been no permanent exhibit in the Dayton area to commemorate this achievement and educate the public on:
The context of the war;
The issues that made its violence so horrific;
The heroic efforts of Wright-Patterson Air Force Base personnel to set the stage for, and of members of the U. S. State Department to conduct, negotiations to bring peace to that region; and
The aftermath of the war which has made true and lasting peace there a still-elusive goal.
The Dayton International Peace Museum produced its first permanent, interactive exhibit to accomplish these goals in November 2019. With the pandemic closing museums in early 2020, innovation was needed to appropriately commemorate the 25th Anniversary.
The Dayton International Peace Museum partnered with the Rotary Club of Dayton to digitize the exhibit and offer it online throughout the world to visitors, researchers and students, even those who may never be able to visit Dayton, Ohio in person. By offering the interactive exhibit online, it is even easier to use as curriculum material for educators. As such, the "Magnificent 17" (Rotary Club of Dayton members lead by the Dayton Club's Peace Committee) raised $3,000 to serve as the Presenting Sponsor of the online exhibit, which can be viewed by visiting
https://accords.daytonpeacemuseum.org/
Share
---
Rotary International News